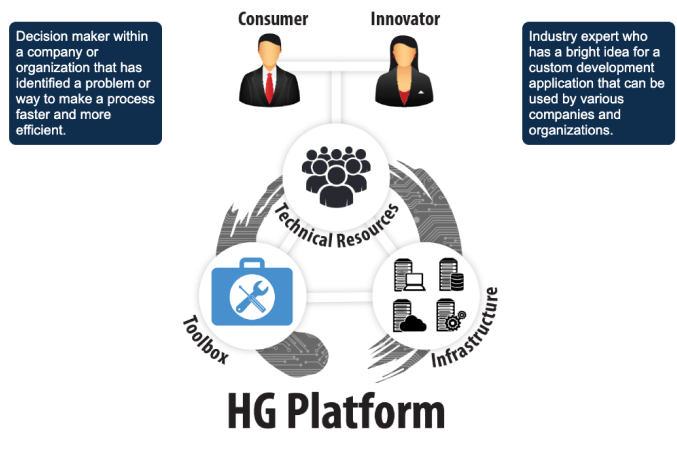 HyperGen As a Service
As technology has advanced, options for improving processes and making daily tasks more efficient have increased. In today's environment, it can be difficult for companies and organizations to know the solution that best fits their needs. There are numerous providers that either have or can develop Software as a Service (SaaS) to accomplish your goals. However, knowing if you need an existing SaaS application, Platform as a Service (PaaS), or Infrastructure as a Service (IaaS) to solve your issue can be confusing. That is why we have created HyperGen as a Service (HGaaS). Our extensive technical resources combined with our toolbox and infrastructure creates a service that is second to none in terms of developing enterprise grade custom software solutions . In the diagram and information below, we will illustrate why HGaaS is the industry leading option to meet your custom development needs.
"Before [HyperGen], our testing candidates who had needs for special accommodations, submitted requests through snail mail or fax. We had piles and piles of paper with candidates' personal and identifiable medical documents. The process was cumbersome, inefficient and wasn't secure with that confidential medical information. HyperGen tightened all of that up by digitizing the submission process. They took our requirements and developed an application hosted on their secure cloud where you can sign in anywhere 24/7." — Debbie Bergtholdt Manager of Accommodations Pearson VUE
HG Platform
Current PaaS environments are a collection of various resources, requiring your developer to be an expert on multiple platforms/libraries including Database, .Net, Node JS, jQuery, Java, React, Angular, and many others. No developer can be an expert on all of these platforms, therefore creating additional staffing needs. The HG Platform is a streamlined, integrated single platform eliminating the need for developers to be experts in a multitude of technologies which in turn gets your product to market faster.
Technical Resources
With over 25 years building, maintaining, and securing IT systems, we have acquired a vast number of technical resources to assist or completely handle your custom developments. Our technical staff has extensive experience designing, developing, implementing, maintaining, customizing, upgrading and managing enterprise grade ERP software solutions for more than three decades. These technical resources and experts are all within our company, therefore providing a single source during the development and implementation process.
Toolbox
Our tool box is full of modern and legacy capabilities for both client-server and Web based applications. Our team has also developed a Web-based Rapid Application Platform (WRAP) that we offer as part of our cloud platform services. With the WRAP platform, our team can focus on the business and application requirements that dramatically reduces time to delivery for our clients. This platform as a service offering combines our talent with toolsets that can easily turn your ideas or legacy applications into a comprehensive cloud based solution.
Infrastructure
IT Infrastructure refers to an enterprise's entire collection of hardware, software, networks, data centers, facilities and related equipment used to develop, test, operate, monitor, manage, and support information technology services. For many companies, the ability to have their IT infrastructure completely in-house is cost prohibitive. It can also be very time consuming to build an entire IT infrastructure, therefore hampering business agility. We have spent years building and maintaining our infrastructure. We stay on top of the latest technologies and upgrade our systems accordingly. By partnering with HyperGen, you will save money by avoiding hiring internal IT staff and save time by getting your product to market faster!
Innovators & Consumers
HGaaS is geared toward industry experts, not developers. Our platform provides all that is needed to create your custom cloud application, therefore eliminating the need for staffing a comprehensive IT team. We rely on your industry specific knowledge combined with our technical resources, toolbox, and infrastructure to build the custom cloud based applications that you desire. HGaaS clients can be categorized as either innovators or consumers.
Innovators
our expertise while keeping your focus on sales and other initiatives to grow your business. In addition, your product will get to market faster because of the experience and processes we have in place to quickly and efficiently build your application.
Advantages
Highly customized infrastructure providing the maximum redundancy while eliminating outages due to maintenance
Multi-carrier connectivity that provides maximum uptime
Hardware tuned specifically for high SQL TPS processing and customized for your business
Application optimization for high performance
Disaster recovery site with geographically distant data centers
Optional automated failover
The only choice for FULL-STACK, ENTERPRISE GRADE software solutions!