Our On-shore Managed Services offers a full suite of services to address the continually evolving nature of Information Technology and ERP Solutions. HyperGen provides Managed Services for the entire line of critical business applications our clients need both now and for future growth. You have the flexibility to start with the level of Managed Services that make the most sense for your company, and then add-on or change service as your needs grow. On-shore Managed Services provides benefits to our clients with the following:
Check out our HG Maintenance Support Package, developed to meet your yearly PeopleSoft planning, selection, adoption and maintenance on a continuous support plan.
Highly Skilled & Trained Professionals
With our professionals, you are able to leverage years of experience gained over a wide array of systems, networks, and industries. We deliver high quality support solutions gathered through real world experiences.
Employee Attrition Management
With our On Demand Staffing, Staff Augmentation Services, and Recruiting Services, our clients are never left without the necessary skillset during times of employee turnover.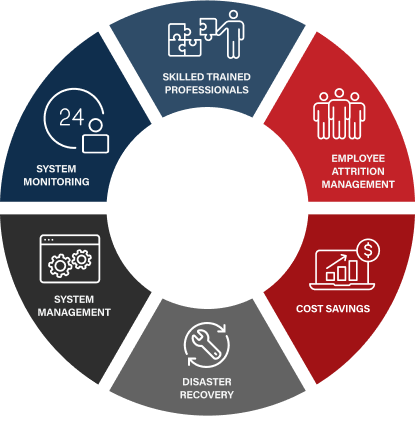 Monitoring
Ensuring maximum uptime for services requires staffing for 24/7/365 support., HyperGen delivers this critical service for a fraction of the cost. We have the staff, the technology, and services available, thus delivering bottom line savings and maximum uptime. With HyperGen, you have access to a full team of skilled and experienced professionals who can address all aspects of your IT and ERP needs. While HyperGen is strategically focused on PeopleSoft, we also offer a wide array of ERP services, including the following:
Database Administration, PeopleSoft Administration, Disaster Recovery, Maintenance and Patch Application, Application, Customization, Application and Tool Upgrades, Security Administration, Monitoring, Daily Support, OCI Cloud Manager
Cost Savings
Our Managed Services provide our clients with current expertise at a reduced cost with no overhead. HyperGen's staff becomes your staff seamlessly supporting your applications.